12 décembre 2011
1
12
/

12
/

décembre
/

2011
21:59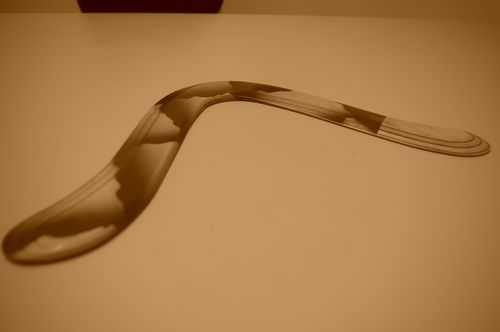 Like A Boomerang
Jack was accustomed to say all had started with a boomerang. For few weeks the Australian young boy had besought his mother to buy a boomerang. However she had always refused, giving the cost price as a reason.
Eventually, on a sunny and clear summer's day, Jack was given lift by his father called Chris to a toys shop. When they arrived, Chris said to his son to choose what he wanted. Jack gaped in amazement for a moment, wondering when his father would start laughing, but Chris looked at him seriously, so the boy took the precious boomerang and kept an unforgettable memory of this good afternoon.
The next day, Chris led them without telling anyone, to settle down in Asia. Jack was convinced his father had prefered go away rather than confess he was ruined, because of his boomerang. He admired his bravery and felt guilty. That's why he wanted to took back his new toy, but the assistant refused. So he decided to kept it, because it represented his father.
Few years passed and Jack received a letter saying that he was required in Europe for the First World War. The twenty-four-year-old man had to write his will. He found again his boomerang at the bottom of a drawer and took it, hopping that it would help him to find strenght and recomfort during the fights. Actually it didn't only help him to find strenght and recomfort, but especially the fights ! Jack put blades on each side of the boomerang and threw it on the other side. His arm always came back full of German blood. The young man was definitely an excellent thrower.
Unfortunately, Jack was hit by the ennemies shots. His last words applied to an American soldier, Bennett, who cames from a lost village in Ohio. Jack asked him to take the boomerang and to send it to his family, in Australia, but he died without having the time to reveal his adress. Few days later, the American was sent to another regiment.
At the end of the war, Bennett Johnson returned in his country and took steps to find Jack's family, but he didn't know his name and his requests were futils.
On a fine bright evening towards the end of September 2011, Tony had promised to his children to go to the park and was waiting patiently they were ready. He opened the window wich looks onto Central Park and blinked, blind with sun. He could see some kids who ran into the grass and who were playing together, roaring with laughter. Theirs mothers were sat down on the public benchs and kept an eye on them. He thought if Julia was still here, she would be talking with them, wearing her light dress as if she was about to fly away...But she quit them few years ago to lead her life what she wanted. She said it was the mere solution...
« Dad, what is it ? »
Joshua produced in his hand the object his father was so much attached. Tony wondered why nobody had never mailed it. Thanks to Internet, he could find an adress or something, who knows ?
« A boomerang, son.
- And why do you keep it in the attic ?
- That's a long story...
- Can I take it in the park ?
- Sure, boy, we'll learn how to throw it.»
And actually, they learned how to throw a boomerang. Tony was delighted to play with his children, he remembered him when he was their age. He wanted to demonstrate his strenght so much so that the boomerang disappeared in the vegetation. He was sorry for the children but above all for the young soldier who had, one day, fought his ennemies with this derisory arm. His great grandfather called Bennett told him the incredible story of this boomerang, on a winter's rainy night. This boomerang had gone through the First World War and he lost it in a park because of his stupidity.
They were coming back home when a woman's voice called them: «Is it yours ?» Tony turned his head towards her, but he didn't look at the boomerang. He just observed the brown-haired young woman with blue eyes, who was smiling to him.
He said: «Julia !»
And she answered, staring at children: «Sorry...»
But Tony didn't ask for apologies, he was too glad too see her. Not only he had recovered his boomerang, but thanks to it he had found again his wife.
And, first thing in the next morning, Tony posted the boomerang from the most close mailbox of his home, to the city hall of Sydney, Australia, with a letter explaining its story.
When the family Robinson got up this morning, it was unaware this day wasn't like the others. Emily slipped on her dressing gown and went to the mailbox. There was a parcel post and she didn't know what it could be. Her father, Luke snatched it from her hands and said, moved:
« The boo...booboo...boo-me-merang ! »
It was accompanied by two letters, one from the city hall, and the second from New York, a man called Tony Johnson. Luke explained to his wife and Emily an incredible story.
A young Australian, Jack was mobilized in 1914 and never came-back. He had written a testament, mentioning the existence of a boomerang wich nobody never found again. Jack's mother remarried and had two sons, including Luke's grandfather. Luke and his family had taken steps to find the boomerang, that's why they had contacted the city hall. Today, a New-yorker had sent to them the precious object, nearly one-hundred years later.
The child of the family, Emily, quickly appropriated the unexpected boomerang. The ten-year-old Emily was a little normal girl although she was suffering from a leukemia. When she was younger, she had spent many time in a hospital room, and had done a chemotherapy, even though she couldn't completely cure.
The spring holidays had started, therefore the Robinson went to the seaside to spend a day off. Emily didn't forget her new toy and she played with it during many hours. Her parents were delighted to see her having a good time.
Unfortunately, the next day the child had a temperature. An intense fever is one of the symptoms of her disease and she had to be hospitalized, so her parents were worried for her. Her state of health was stable. A marrow transplant could save Emily, nonetheless her form of leukemia was scarce and the Sydney hospital didn't have the means to operate her. The mere solution was to go in the USA. Luke and his wife got in touch with the Mount Sinai Hospital, in New York, where there was a famous practitioner who could operate Emily. However it was very expensive and the Robinson couldn't leave their job. Emily remembered on a Saturday morning, her father was came back from the mailbox with a mysterious expression. She thought maybe he had received another boomerang, but it was just a letter from USA. A correspondence was became established between him and the Johnson. Luke had told them about Emily's leukemia and Tony, Julia and their children suggested they could put up her during her hospitalization. The Robinson accepted with gratitude and consequently, Emily led the Australian soil a week later with a nurse. Before leaving, the child said to her parents:
«Whatever the result may be, I go towards my destiny.»
Two weeks later, Emily had a successful operation and got on well with the Robinson sons, who played boomerang with her.