12 décembre 2011
1
12
/

12
/

décembre
/

2011
21:11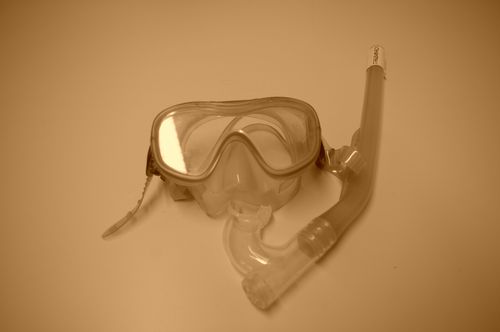 Kwenzo & co
Max, a cute 9 years old child, was busy unpacking cardboard boxes with his father when he found a blue diving mask with its snorkel in one of them. He asked his father:
"Daddy I've never seen this before, where does it come from?"
Richard, the father, looked at his son, and smiled shyly. He seemed to have tears in his eyes:
"This, my son, is one of the most precious gifts I received from your grandfather!"
Richard stopped everything he was busy doing and sat down comfortably to start telling his story in a very emotional way:
"You see, when your grandfather, Henry, was around your age, he went on holiday to the Seychelles with his family. He met another boy there and they became close friends. Unfortunately, Henry had to go back home at some point and say goodbye to his dear friend. Kwenzo, offered this mask and its snorkel to your grandfather before he left and told him that next time he came to the island, they would go snorkelling together again. Sadly, Henry never went back to the Seychelles but he always kept Kwenzo's gift in a box. He considered it a very precious souvenir that had real sentimental value for him. Henry grew up eventually, as we all do, and had his first son and that's me, your own father!
You can imagine that the story doesn't stop here…
One day, when I was around 7 years old, I told my father –So, your grandfather, Henry- that I wanted to learn how to swim. My only worry was that I was totally afraid to breathe underwater. We were in the house of Perpignan, the one that your father still lives in. Looking for a swimsuit, he found these mask and snorkel, which had never been used as he never went back to the Seychelles. I understood with his face, how much this object was important for him. That's why, when he decided to give it to me, I found it extraordinary. When he told me his adventure and his new meeting, I realised that it was an honour for me to wear it: this mask had travelled and had a great importance for my father. I was the one who will swim for the first time with it.
Unfortunately, it also put my life in danger. As I could swim only with the mask and its snorkel, the day when my friends asked me to come in the swimming pool with them, I tried to be at ease in the water.
Good deal, I nearly drowned in front of them as a looser.
You can imagine that it is not a great souvenir for me, but for the memory of your grandfather, I've always keep it."
Richard finished his story. Max asked him
«Oh dad! Can I take it please? »
«Of course, Honey! »
«Thanks! I'll go to the beach; I want to show it to my friends, can I? »
«Yes, you can. But be careful. I'm going to the city. See you soon. »
«Bye dad! »
Max went to the beach; he was full of joy with his snorkel and his mask.
«Look at it guys! My dad gave me that! »
«Oh! It's beautiful, you're lucky! »
«Come on, let's go swimming with. »
But this day, when all was happy, nobody knew what will happen.
Max was laughing with his friends when the wave arrived. He hadn't the time to say something.
He yelled. Then, no more noise.
Richard was buying closes for his son. He learnt the new by survivors. He was scared for his son. He ran to the beach. He found the snorkel with the mask, but not his son. Max was drowned.
At this moment, Richard understood that he lost everything. He hated this snorkel, because it gave him only problems. But he kept it, in memory of his father, and his son…